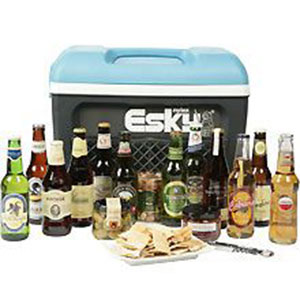 The Mega Beer Pack
$180.00
Details
Perfect for any celebration, this is a gift hamper for the beer-lover on the go. A dozen beers ready to travel to a party or picnic. Comes with a quality high performance 25L Esky. Includes:
six premium Australian beers,
six premium International beers
caramel coated peanuts.
Ogilvie and Co Olives
Ogilvie and Co Peppers
Cheesy/Garlic Nibbles
Ideal for a day in the sun with friends! This sensational package of beers, snacks and an Esky is designed for relaxation. The adventurous beer drinker can experience the taste of a different country every night! Included are a selection of beers from Bavaria, China, Italy, The Netherlands and South America (amongst other exotic countries). The beer lover's choice! Includes a selection of beers from breweries in every state around Australia, including James Boag from Tasmania, Barons Lager from Victoria, Little Creatures Pale Ale from Western Australia, James Squire and Blue Tongue from New South Wales and Coopers from South Australia (beers will vary, subject to availability).
Note : Some of the products are for 18+
Based on LIQUOR ACT 2007. It is against the law to sell or supply alcohol to, or to obtain liquor on behalf of, a person under the age of 18 years.