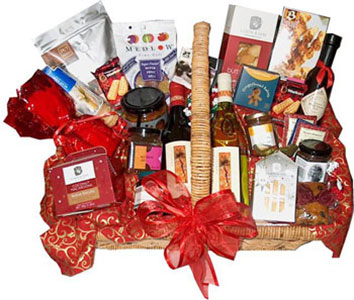 Details
Presented in a large wicker or seagrass basket, lined with Christmas material and tied with a festive Christmas bow.
Includes:
Australian Red Wine
Australian White Wine
Little House of Wisdom Biscuits
Traditional Fruit Cake
Black Forrest Chocolate Sauce
Antipasto
Seasonal Preserves
Autumn Chutney
Christmas Pudding
Blue Cow Cheese Company Crisp Breads
Maggie Beer Quince Paste
Medlow Fruit Gels
Pure Butter Shortbread
5 Senses or Yahava Fresh Ground Coffee
Christmas cookies
Tapenade
Gourmet Jam
Coconut Macaroons
Tea Selection
Seasonal Preserves
Cheese and Herb Twists
Twist tied chocolates
Almond and Cognac Biscuits
Note : Some of the products are for 18+
Based on LIQUOR ACT 2007. It is against the law to sell or supply alcohol to, or to obtain liquor on behalf of, a person under the age of 18 years.