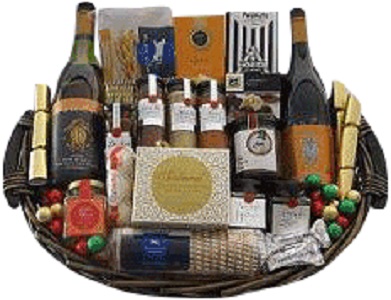 Merry Christmas Gourmet
$180.00
Details
Christmas Cheers. A gift of truly wonderful tastes from WA.
Contains:
Bottle of Margaret River (or 'Down South') Red
Bottle of Margaret River (or 'Down South') White
Blue Cow Garlic & Parmesan Cheese Twists, or similar
Ogilvie's Cheese Nibbles
Morish Peanuts
Red Chilli Jam/Ploughman's Pickles or Spiced Mango & Lime Cutney
BBQ Entertainer (4) Sauces – Spiced Plum BBQ Sauce, Thai Sesame & Spice Vinaigrette, Malt Beer Mustard Sauce and Curried BBQ Relish
Maggie Beer Paste
Blue Cow Crispbreads
Ogilvie's Traditional Plum Pudding 4 Pack
Brandy Butterscotch Sauce
Lindt or Ferrero Rocher Chocolates
Ogilvie Antipasto Olives
Ogilvie Antipasto Peppers
Mondo Nougat Minis
Solid Chocolate Balls
All presented in reusable sturdy oval wicker or seagrass basket, shrink wrapped and finished with a hand tied bow.
Note : Some of the products are for 18+
Based on LIQUOR ACT 2007. It is against the law to sell or supply alcohol to, or to obtain liquor on behalf of, a person under the age of 18 years.